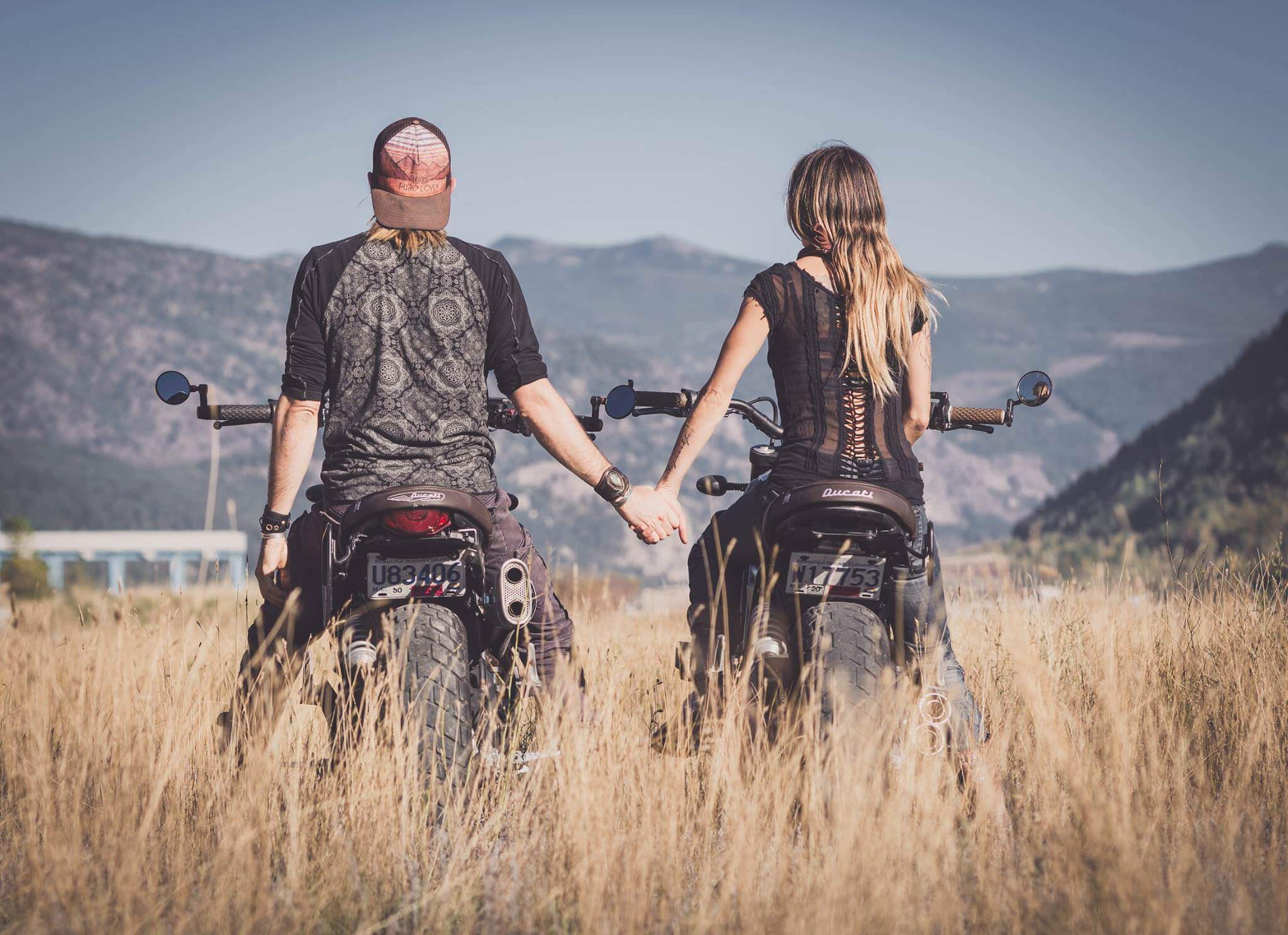 Pioneers of eco clothing: Nomads Hemp Wear
The Nomads could be considered the godfathers of eco-wear here in the Kootenay Mountain region of Canada. They have been selling their hemp+ clothes for over a decade. They are also a fairy-tale story of success in the market of eco wear. A few years ago I sat down with Louis Seguin and Anik Descoteaux, the owners of Nomads Hemp Wear at their home near Nelson, BC, and asked them about their road to success, their move to manufacturing in China, and about learning to play more and work less.
It is a gorgeous fall day in the Kootenay's, I am half way up a mountain looking over a huge vista in a stunning post and beam home that belongs to the owners of Nomads Hemp Wear – thirty three year old Louis and Anik. I have been here for over an hour already and we have yet to discuss their business, which is the reason I am here. To say that these two are interested in more than just hemp fashion is an understatement: we have already spoken about capitalism and the feminist movement, the Mayan Calendar's end, the shift of consciousness on the planet, the pending economic collapse, and my mother's raw milk goat cheese.
It is no wonder they had the energy and perseverance to take the relatively small niche market idea of hemp clothing to the global market; they are smart, impassioned, and interested in everything. And super cool. Everything about these guys has a casual stylishness, from the light-filled house with Mexican tile and thriving plants in every corner, to the easy way they wear the eco-urban look for which their clothes are famous. The evolution of hemp from wrinkled "hippy" wear to the sleek gritty styles that could be worn to work, not just to work on the farm, could hardly have come from anyone else.
Their story seems like a fairy tale of success…
From high school sweethearts in Montreal to an international corporation selling products that are easy on the planet. Their conversations are staccato; they interrupt and finish each other's sentences in a whirl of ideas, in the manner of two people who know each other very well.
"We met in typing class," Anik is curled up over her plate of sushi, looking very chic in a pair leggings and a top of her own design, brown hair loosely gathered at the top of her head, feather earrings, "Louis was a total hippy wanting me to draw flowers on his pants. We had so much fun together. We were buddies, best friends I would say for a long time…"
"Bff's!" Louis interjects from across the room where he is busily making us coffee, and answering business calls, all while carrying on a conversation with us, "and we're still bff's. And what's neat about it is that we were doing Nomads almost since the beginning."
They started out just making a few things by hand, in order to get away from jobs like cleaning and fruit picking. While there were other forms of less legal income in the area, Anik wanted to do something creative with her time instead.
It was a lot of hard work in the beginning.
"It was crazy!" Louis laughs. "Wake up in the morning, cut your fabric, start dying, do two or three batches per day. It was just so labour intensive. We would go from white fabric that we would buy, to a finished piece of clothing, and we would do the whole product ourselves."
"He would dye it, and cut it, and I would just sew non-stop," admits Anik ruefully; "we believed that every piece of Nomads clothing had to have embroidery at that point."
"It was just ridiculous."
"It started with little ohm signs… I don't know why we did that," says Anik starting to laugh, "I was pretty much crying all the time, and my back was killing me, and we were working 13 hours per day seven days per week. I remember one day at the beach being like, 'Oh my god I finally have a day off", and the phone rang, and it was Still Eagle calling saying, 'we need more hoodies, we sold them all', and I started crying. I should have been really happy, but I was not at all."
Anik says it was Louis who kept her going during those hard long days. "(He kept saying that) one day it will totally pay off, and he was right. If it was up to me I don't think I would have had the courage to keep going that way. All my friends were picking blueberries and hanging out at the beach, and I was just working. We did start with the concept of play hard and work less, but at some point it switched, and we were just working with no play at all."
After about three years, they realized they simply couldn't keep up with the demand. Manufacturing in Vancouver was the first step, but after a few years they made a trip to China, and ended up moving production over there.
The Decision to Move Manufacturing to China…a 5000 year history with Hemp
"China has a 5000 year history with hemp," says Louis in a way that indicates he's had to explain this a lot, "five thousand years of uninterrupted trade. So when people say, 'why do you manufacture in China?' well that's why. It's not because everything is manufactured in China, it's because China and hemp have a huge history, and they've been the one manufacturing it from the start."
Hemp fabric is not produced at all in Canada, so Nomads had been getting their fabric from China since the beginning.
They also found the manufacturing quality was just so much better in China, and the price is impossible to beat.
Louis said in the end quality and price dictated the move, but there was another unexpected benefit, "as soon as we moved to china, it was like the design just freed up."
Anik agrees, "I could do anything. Zippers and buttons, and your own logo on everything became so accessible, and so fun."
"It's because they are all set up," says Louis, "it's a manufacturing country."
Cementing the move to China was just how impressed they were with the factory. People have an idea of a Chinese factory as being a huge industrial complex with thousands of workers.
"It's not just any company we chose in China, it's the company. They are legendary. We are a niche company, and our factory reflects us. It's a small company in a field surrounded by gardens. It's not a multi-building that's five kilometers long. It's maybe a hundred people sewing."
Anik was most impressed with the studio space for the sewers,  "it was the most amazing thing, high ceilings, white walls, and all windows. I thought it was cool."
It's hard to really have something "made in Canada"
Louis adds that he doesn't understand the whole "made in Canada labeling" when all fabric in Canada is made somewhere else. "We have never made one meter of fabric in our history from start to finish. And making one meter of fabric is more work than people can imagine. You have to harvest it, choose the twine, extract the fibre, then weave it, bleach it, and then do the colour. It's crazy; it's like ten steps. Then by the time it gets here, people sew it and call it made in Canada. It's confusing, it should be like, '10% made in Canada'."
Both Louis and Anik were hoping that would change with Crailar, a fabric that was supposed to be produced in Canada out of hemp. "The biggest problem that people are having to make hemp affordable is the extraction of the fibre," says Anik, " it is hard to compete with the Chinese, and (the Crailar guys) were all ready to do it, but at the last minute they changed to US-grown flax. We don't know why. We were finally going to produce our own fabric and they changed it. It's a pretty big deal; something like 36 million people are wearing clothing everyday, and none of the fabric is made here, entirely. Classic Canadian when you think about it."
In the meantime, Nomads are very happy with their decision to move production to China, not the least because it has given Anik a much-needed chance to play.
"We can do anything we want. Anything we think of, they can make it." Now that's fun.
Next month: we talk about the wonders (and limitations) of hemp, soy, and the almost equal wonders (and limitations) of bamboo Lyocell.