Giddy up! Enter our Nomads $500 GiveAway Review Contest
We've been around for a few years now ( like over a decade), and we realized recently that we have no review stars listed on Google. While we get amazing feedback from you lovelies daily, we would love let others that maybe don't know about us, or hemp, or sustainability the confidence to shop with us online. We know that everyone is busy, and it does take a minute or two to sign into your Google account and leave a review, so we decided to sweeten the pot with $500 Nomad bucks that you can spend online at our store.
What you get
A $500 in-store credit to be spent online at Nomads any way you see fit. On sale faves, or pre-order from next season before it even hits the virtual shelves. The sky's the limit. We will be drawing a winner in November of this year – YES that's JUST IN TIME for X-mas, or Hanukkah, or Solstice, or whatever pagan ritual you might celebrate. We don't judge. Everyone who entered a review for the year will be entered in the contest. We will be making the announcement of the winner in November, if your Google name in no way matches your actual name, keep an eye out for our announcement on Facebook, Twitter, or via Email as we will be letting you know there, and then you will likely need to contact us for your Nomads Bucks code.
What you need to do
To enter,
Step 1) You need to sign into your google account. This can be done by:
Signing into your gmail account
Signing into your google business account
Creating an account on Google (it's free, and there's no strings attached)
Step 2
Option 1:
Head over to Google Maps.
This link should take you to Nomads Hemp Wear & it should look like the image below.
If you are in the US, you may have to just put our name in the search bar. Then click on the reviews, and add yours!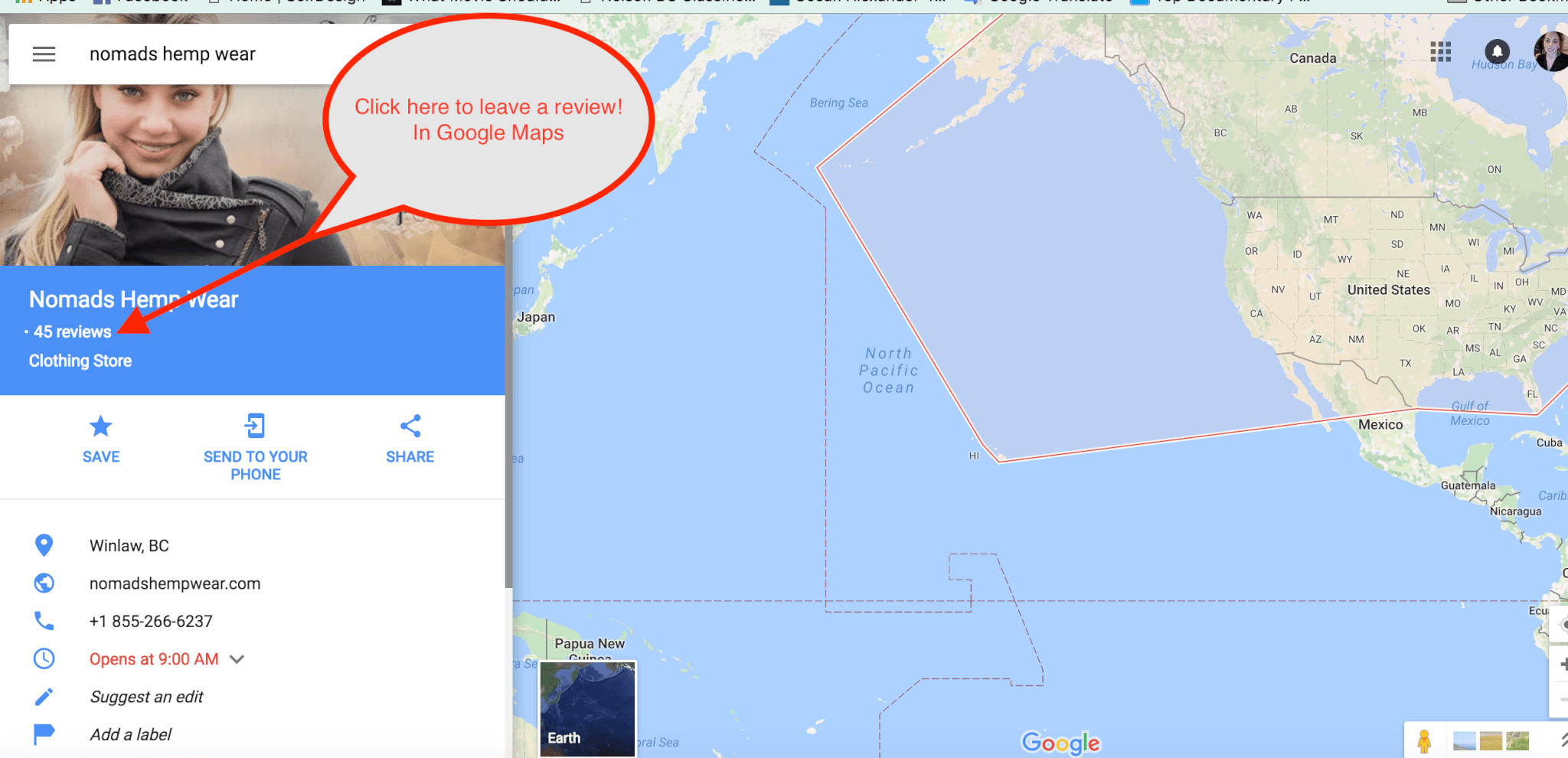 Option 2:
Google: "Nomads Hemp Wear" . Look for the business information Box on the right hand side of the page, it should look like the image below…
Follow the arrow below, and click "Write a review" ( in search)
BONUS
As you can see we don't have ANY REVIEWS yet. The first person to leave us a review gets a bonus 20% off their next purchase at our online store. New or old stock. On the whole purchase.
Happy reviewing! Got questions? You can always contact us here.